Learning management systems (LMS) like Moodle, Blackboard, It's learning, PingPong, Fronter etc, are now widespread in almost all universities and colleges. At the same time many are already working with other more open types of learning environments based on social media. In Estonia this development is already underway and we are pleased to welcome Mart Laanpere, Tallinn University, who will present an overview of current work there.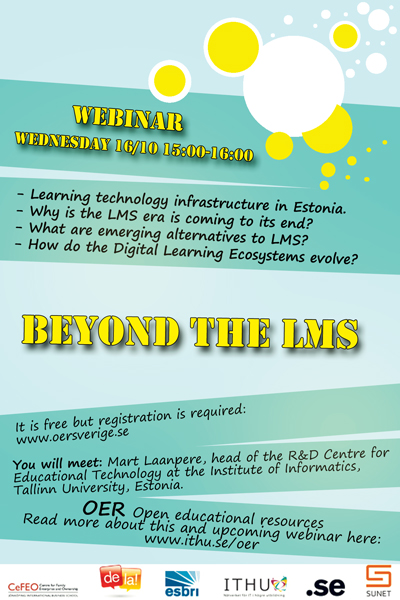 About the presentation
This presentation presents the generation shift in Technology-Enhanced Learning (TEL) systems, both in Estonia and globally. This shift replaces closed, institutional Learning Management Systems with open and self-regulated Digital Learning Ecosystems such as Dippler. What are the main arguments in the discussion of LMS and PLE (Personal Learning Environments) and what expectations are there about future systems? Maybe we should see the next generation as digital learning ecosystems rather than simply learning environments.
In the webinar you will meet
Mart Laanpere, head of the R&D Centre for Educational Technology at the Institute of Informatics, Tallinn University, Estonia. He has participated in a number of international R&D projects in the field of technology-enhanced learning in various contexts: primary, secondary, vocational and higher education as well as informal learning at the workplace. His main focus in research is pedagogy-driven design of digital learning systems and tools, implementing ePortfolios for competence management, standardisation and assessment of digital competences.
Some of the questions Mart will discuss in the webinar
How has the learning technology infrastructure been built up in Estonia?
Why is the LMS era is coming to its end?
What are emerging alternatives to LMS?
How do the Digital Learning Ecosystems evolve?
Who should participate
This webinar is intended for educational professionals with an interest in learning management systems and the future development of learning environments: educational technologists, IT strategists, LMS specialists, teachers with a good knowledge of LMS, academic management and representatives from LMS companies.